PRODUCTS
Fast, Accurate Measurements to -120 °C. Suitable for laboratory use, calibrations and spot checks.
Our flagship product. For use in aircraft and military applications.
CR-2 Convenience for Continuous-Use Applications. Suitable for toxic and corrosive gases, such as Arsine, Phosphine, HCl and HBr.
CR-4 CHILLED MIRROR HYGROMETER
Portable, 3-stage TE cooler for measurements to -60°C
Portable high-temperature hygrometer for measurements to 150 °C.
Separate sensor and transmitter with 3-stage TE cooler for measurements to -60 °C
The Best Conventional Aircraft Hygrometer
H-100BL/H-100CL Humidity calibration chamber
Portable humidity calibration chamber
VAPORTRON®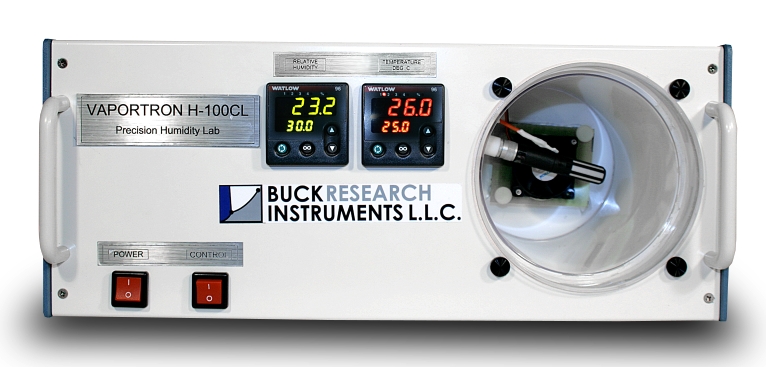 VAPORTRON® H-100BL/H-100CL
The Vaportron is a humidity generator for calibrating a wide variety of humidity sensors. It is extremely accurate and stable over a wide range of temperatures and humidities. It has numerous options for a wide variety of calibration applications.
Range of Humidity Units Generated
RH: 3 to 95%RH with ±1.5%RH accuracy from 20-90%
Dew Point: -20°C to 40°C Dew Point with accuracy ±0.2°C
Absolute Hum: 0.7 to 35 grams / cubic meter
Specifications
Stabilty of 0.2%RH
Large 2 – Liter work space
Port size: 5″ diameter x 7″ deep
Set point resolution: 0.1%RH, 0.1°C
Air cooled; orientation: any in 3 axes
Power Requirement: 50 Watts, 120 / 240 VAC, 50 – 60 Hz
Dimensions: 8Hx17Wx13D inches, wt 18 lbs
Padded carrying case included
Built–in analog interface included
Serial computer control option